Trainee Program
In our Trainee Program you'll be supported to kick-start your career through on the job learning and guided study towards a certificate qualification.
TasNetworks hosts trainees for up to two years while they complete their studies. You'll be contributing to the business in a real way while working towards a valuable qualification. You'll be supported through your training with regular touch points, while your team at TasNetworks guides your professional development.
Trainee opportunities are advertised throughout the year via the TasNetworks website.
What our people are saying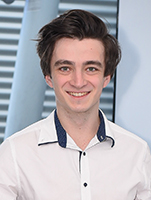 Zac Thomas
Trainee - Strategy, Finance and Business Services.
How did you become interested in a Traineeship?
I wanted to enhance my skillset and expand my horizons. I was working in Hospitality which I enjoyed but it's a narrow field and I wanted to test myself because I was getting a bit comfortable.
Can you explain to me how a traineeship works?
I was placed at TasNetworks by my training provider with the aim to get experience through a fixed term contract. I basically work with both the training provider and TasNetworks to complete my studies. The provider ensures I have skills in applications such as Word and Excel and in taking meeting minutes.
Do you feel well supported?
TasNetworks in particular were very good in their understanding that my background is in Hospitality and that Business is something very different to anything I have done previously. It's been a great experience, it was a bit like jumping in at the deep end but I'm really glad I did it, everyone has been so supportive and willing to help me through.
How long did you take to complete your Traineeship?
It does vary but my Cert III is 12 months with the possibility of retaining employment at TasNetworks at the end of that period.
What do you like best about your role?
I love the atmosphere and the people, it's such a supportive environment and you never feel alone. If you are stressed or worried about anything there is always someone there to help you.
What advice would you give to anyone looking to undertake a Traineeship?
Be open to new experiences, you might feel a bit daunted to start with but trust that there's always people in the business to support you and have a go.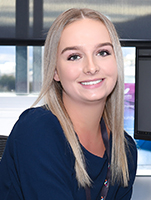 Bonnie Scott
Trainee - Transaction Business Services Support Officer
How did you become interested in a Traineeship?
I did Business Studies at College for two years and this really sparked my interest in Business. At the end of College I didn't really have an interest in going to University and with Business being my favourite subject I contacted Work & Training and that's how I got started.
Can you explain to me how a traineeship works?
There were 12 modules to complete in my Traineeship and these could be completed over 1 or 2 years. You have a Trainer/Assessor assigned to you and they come into the workplace every 6 weeks to assess your work. You basically work full time and do your study in between.
Do you feel well supported?
Yes definitely. Having the Trainer come in every 6 weeks is great and you can request catch-ups in between if you're feeling overwhelmed. My team here at TasNetworks were really good and were very patient and supportive.
How did you get your start at TasNetworks?
Because I had registered my interest with Work & Training, they arranged an interview at TasNetworks for me. A week later I received a call to say that I had been successful in my application for the role!
What's the best part of your role?
My role is very flexible, there is a lot of diversity in that I get to move between accounts payable, accounts receivable and also looking after company credit cards. I get along really well with my team too.
What advice would you give to anyone looking to undertake a Traineeship?
Give it a go, be confident and don't be afraid. Nobody expects you to know everything straight away!