Electricity easements
An electricity easement is a legal right over land for the development, maintenance and operation of our infrastructure. There are 3 types of easements.
Registered
A set of legal rights and restrictions over land favouring a person or party registered on the property title
Unregistered
Created by agreement with landowners at the time they were acquired and aren't registered on the property title
Deemed
Where we have infrastructure on a property established before 6 November 1996. Also known as statutory easements
Overhead clearances
If no easement is in place, or you wish to undertake work within the prescribed or standard easement width areas, you'll need to undertake investigations to determine the relevant clearance distances applicable. These clearance distances vary depending on a range of factors including span lengths, conductor tension, mounting heights and the characteristics of the structures proposed in close proximity.
Your building designer will need to provide detailed information of the works proposed, the location and characteristics of the nearby infrastructure and demonstrate compliance with the relevant Australian Standards (AS/NZS7000 and AS/NZS3000).
Underground clearances
Along with Dial Before You Dig, we can provide information on the approximate locations of underground electricity infrastructure. The location of service connections within individual properties is typically not provided.
We recommend Dial Before You Dig enquiries always be made before any earthworks as this will aid awareness about all underground infrastructure potentially affecting land.
If you aren't aware of the location of private underground assets or want to work close to known assets, contact an accredited underground services locator before undertaking earthworks.
If easements aren't in place, we recommend buildings and structures maintain a minimum horizontal clearance of:
2 metres from either side of underground cables ≤44kV
5 metres for either side of underground cables ≥110kV
Frequently asked questions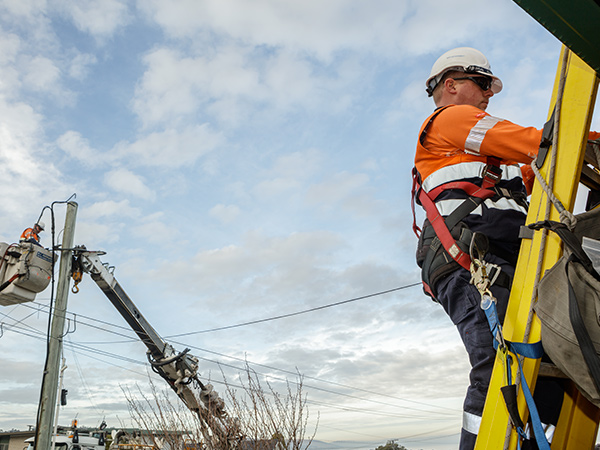 Working near powerlines
There are rules that detail how close you can work to powerlines