Our strategy
Our focus is on delivering power safely and reliably while embracing change driven by our customers. In doing so, we're working hard to keep our costs and prices as low as we sustainably can.
Our purpose is powering a bright future.
In a rapidly evolving energy environment, it is increasingly important that our people have clear direction and guidance in how they work to power TasNetworks as a business and empower our Tasmanian community.

Having a clear purpose enables our people to embrace why we do the things we do. Our purpose statement encompasses the following elements:
Being a catalyst for Tasmania's growth
Providing contemporary network services that are valued by all Tasmanians
Enabling renewable energy solutions
Delivering exceptional customer experiences
Caring for our communities
Consistently providing Tasmania with sustainable financial returns
We're focussed on:
Caring for our customers and making their experience easier
Keeping safe, building trusting relationships, and enabling our people to deliver value
Managing our assets to deliver safe and reliable services while transforming our business
Operating our business to deliver sustainable shareholder outcomes
Our Statement of Corporate Intent (SCI) is our annual performance agreement with our Shareholders. It details the performance measures used to track our progress against our plans for the 2020-21 reporting period.
Our 'strategy on a page' summarises the strategic direction for the business.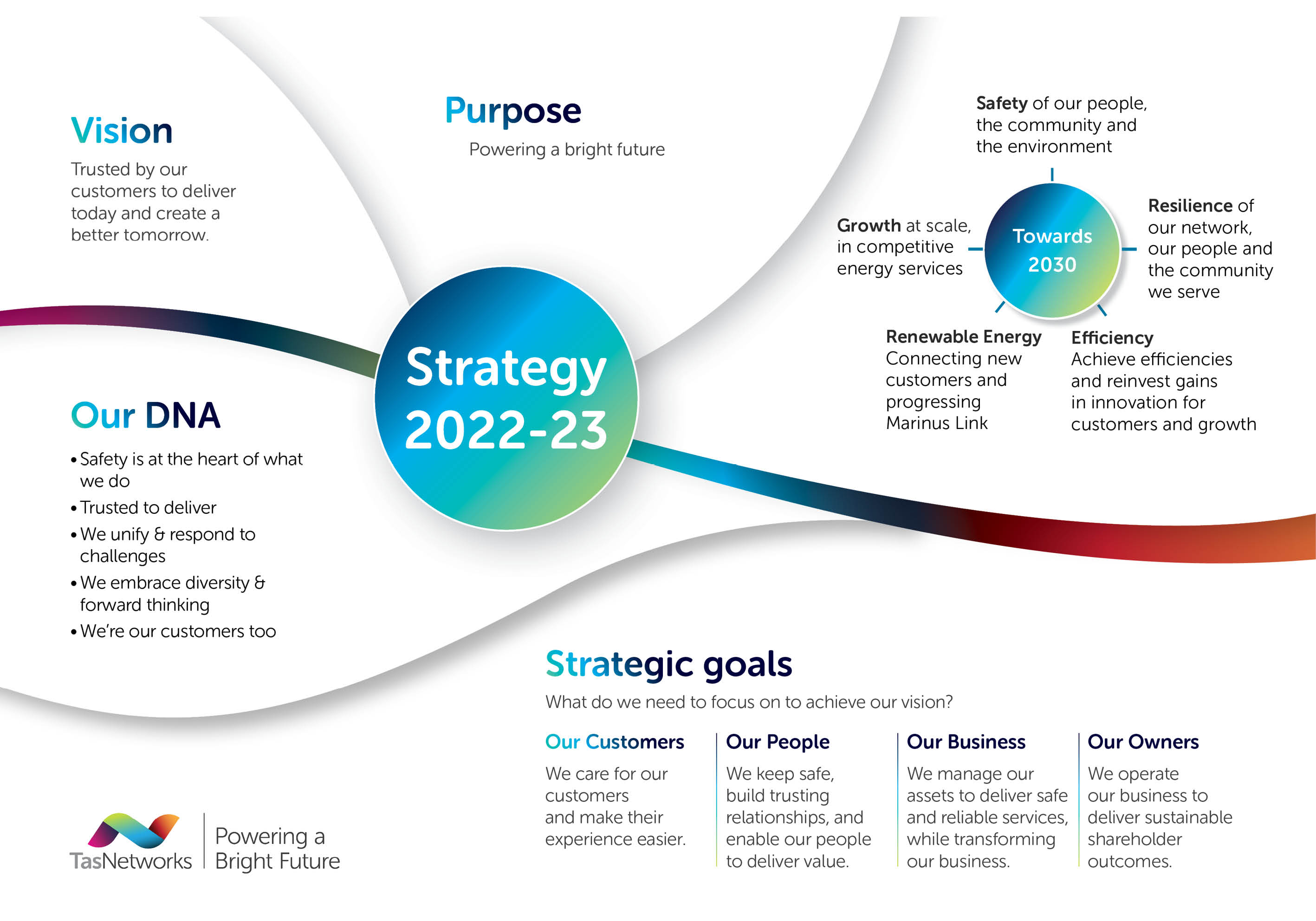 TasNetworks Towards 2030
TasNetworks is the key link between electricity generators and electricity consumers. We sit at the heart of the energy system, running the Tasmanian electricity network safely and efficiently while enabling and accelerating progress towards Tasmania's energy future. We therefore play a pivotal role as catalyst for Tasmania's renewable energy economy in connecting new customers and supporting emergent industries, such as green hydrogen. The decisions we take today about our electricity network and connecting customers can ensure a sound future. We are looking ahead and have chosen 2030 as an important milestone in the transition towards our long-term future. By 2030, Australia's renewable energy transition will be in full swing: TasNetworks is preparing for this future now by laying the foundations.

Our enduring focus is to deliver value to electricity consumers and create opportunities for Tasmania to export renewable electricity. To achieve this, we have set out five long-term focus areas for TasNetworks:
Safety
Resilience
Efficiency
Renewable Energy
Growth
Read more about TasNetworks Towards 2030.