Our strategy
Our focus is on delivering power safely and reliably while embracing change driven by our customers. In doing so, we're working hard to keep our costs and prices as low as we sustainably can.
Our purpose is powering a bright future.
In a rapidly evolving energy environment, it is increasingly important that our people have clear direction and guidance in how they work to power TasNetworks as a business and empower our Tasmanian community.

Having a clear purpose enables our people to embrace why we do the things we do. Our purpose statement encompasses the following elements:
Being a catalyst for Tasmania's growth
Providing contemporary network services that are valued by all Tasmanians
Enabling renewable energy solutions
Delivering exceptional customer experiences
Caring for our communities
Consistently providing Tasmania with sustainable financial returns
We're focussed on:
Caring for our customers and making their experience easier
Keeping safe, building trusting relationships, and enabling our people to deliver value
Managing our assets to deliver safe and reliable services while transforming our business
Operating our business to deliver sustainable shareholder outcomes
Our Statement of Corporate Intent (SCI) is our annual performance agreement with our Shareholders. It details the performance measures used to track our progress against our plans for the 2020-21 reporting period.
Our 'strategy on a page' summarises the strategic direction for the business.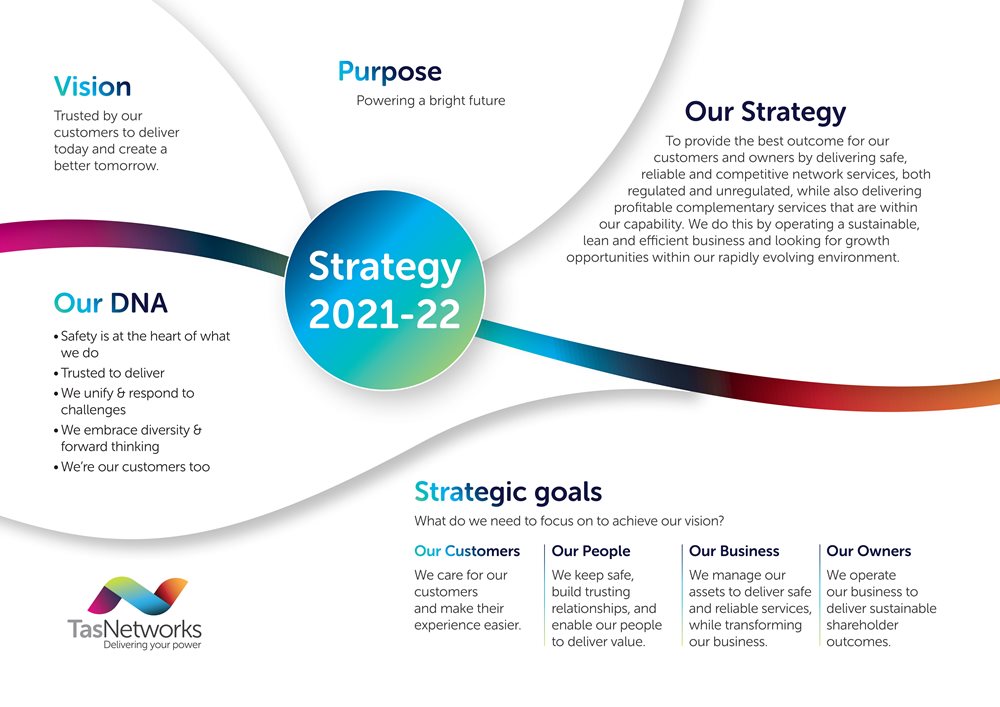 TasNetworks Transformation Roadmap
Our TasNetworks Transformation Roadmap 2025 (PDF) sets out the longer-term plans to reach our vision and how we'll embrace the challenges of the future where electricity security, affordability and sustainability will continue to be key concerns for our customers.
Our planning is designed around meeting your needs, so we encourage you to share your thoughts about this document with us. Send us your feedback.