emPOWERing Farms
We understand our customers in the farming community face a lot of challenges when it comes to managing energy usage. That's why we've developed 'emPOWERING Farms'.
What is emPOWERing Farms?
The emPOWERing Farms project is helping us to understand our agricultural customers' energy needs and explore opportunities to maximise the use of the network as customers increasingly invest in new technology. We've been working with our customers and key stakeholders in the farming community to better understand their drivers and key challenges in managing their energy usage. Using a co-design approach, we'll work with the farming community to develop innovative solutions that deliver the best outcomes for all customers.
emPOWERing Farms status update - April 2020
We've been working with the farming community to better understand the key challenges of managing energy usage within the agricultural sector. In this process, we've gained a better understanding of the challenges and opportunities facing our farming customers, now and into the future. We have classified these learnings into five key problem statements:
1. Connection Process
"The connection process for farmers is long, complex and difficult to navigate."
2. Knowledge Barriers
"Farmers find it difficult to make informed energy decisions due to lack of knowledge and information from sources they trust".
3. Communication
"Operational communication between farmers and TasNetworks does not meet either party's needs, particularly in relation to managing biosecurity, access to assets and outages".
4. Pricing
"The design and structure of our network pricing for irrigation customers has far reaching impacts on farmer's decisions, equity, safety, the environment, and the network."
5. New Needs, New Challenges
"Farmers needs are changing now and into the future and TasNetworks needs to work with farmers to navigate and prepare for the change."
We shared these key problem areas in a series of "drop in" sessions in early March. At these sessions, customers shared their feedback on our project findings. Read more about the 5 key problem statements.
What's next?
The next stage of the project is to define solutions to the key problem areas. If you'd like to be involved in this process you can register your interest below.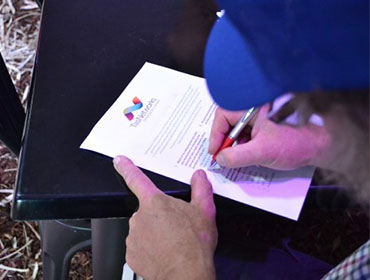 Find out more
Would you like us to send you updates, or are you keen to find out how you can be involved? Subscribe to our mailing list in just a few quick steps and we'll keep you informed.
Frequently asked questions
I need to talk to someone about biosecurity issues on my property?

Farm biosecurity means a set of measures designed to protect a property from the entry and spread of pests, diseases and weeds.

We've recently signed onto the Charter for Working on Private Farm Land. The parties to the charter are the Tasmanian Farmers and Graziers Association and the following utilities and businesses (the 'utilities'): Aurora Energy, TasNetworks, TasWater and Tasmanian Irrigation Pty Ltd.

This Charter is a formal understanding between farmers and utilities that outlines what is expected on-farm. If you have issues or questions regarding TasNetworks and biosecurity on your property that have not been resolved,

please email us.