Apprentice Program
​In our Apprentice Program, you'll work with us to deliver power safely and reliably to Tasmanians all around our great state.
Can you handle working with a company charged with the responsibility of delivering power safely and reliably to almost every Tasmanian, in almost every part of the state?
Can you commit to immersive training and studying across many different types of field work and situations?
Can you help us keep the lights on in times of extreme weather conditions including storms, bushfires and floods?

TRANSMISSION
A Transmission Lineworker works at the heart of our business. They construct, repair and maintain the overhead transmission network that supplies electricity to our major industrial customers and substations. As a Transmission Lineworker, you'll enjoy the variety of working in different outdoor locations state-wide with a reasonable level of fitness will be important to the job.

ELECTRICIAN
Want to set up your future career? Are you a school leaver or someone in the workforce looking for a new career pathway? Can you be customer focused, recognising that you are often acting as the face of TasNetworks? Can you learn from and work with a workforce comprising over 1000 people? Here's your opportunity!

DUAL TRADE
Are you a qualified electrician or Lineworker looking for your next challenge? Can you live by our culture of safety while helping to construct and maintain the largest single infrastructure in Tasmania? You could be part of our future workforce!

LINEWORKER
Can you see yourself working on Tasmania's distribution network - the poles and wires? Are you seeking an exciting apprenticeship to kick-start your career or maybe you're looking to reinvent yourself in a new field. Could you champion our safety culture and deliver quality outcomes for the Tasmanian community? This is your chance.
What our people are saying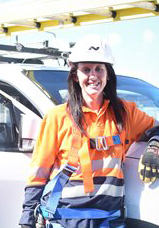 Ann-Maree Barwick - Electrical Technician
Past Apprentice
When did you discover you had an interest in becoming an apprentice?
I was in a factory job that I didn't find particularly exciting when the apprenticeship opportunity was recommended to me. I thought I'd give it a go.
How long have you been with TasNetworks since becoming an apprentice?
I started out as the first female at the Rocherlea depot. 14 years later and here I am! I've made some really good friends and met some really interesting people since I started. I love my job and it's good to be outside and travelling around.
Was your training all on the job or mostly at TAFE?
It was a mix of both. We would do bits and pieces at TAFE, then go off and work with some contractors, as well as working here in the field. We definitely got a pretty varied experience throughout the 4 years.
What does a typical day in the field look like for you?
A 7.30am start where we find out what's in store for us for the day ahead. Work can be anywhere and it's great when we get to go down the coast on a nice day. We do heaps of different stuff from installing cables in new subdivisions, putting in ground-mounted subs and of course, plenty of maintenance.
What would you say to encourage women to join this industry?
Just try it; you never know how you'll go. When it was recommended to me I was surprised and thought 4 years was a long time but the time goes fast and I haven't looked back.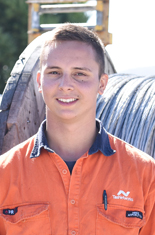 Jonathan Duindam - Electrician
Past Apprentice
When did you become interested in an apprenticeship? Is it something you've always wanted to do?
Yes, I've always known I wanted to be an electrician but not specifically in the power industry, I sort of just fell into this particular industry.
Since you started your apprenticeship, do you feel you've been well supported?
Yes definitely, I've always felt well supported and everyone has always been willing to teach me new things.
What sort of training did you do, was it all on the job or did you go to TAFE?
When I started I was going to TAFE once a week and spending the other 4 days a week on the job.
What does a typical day look like for you; can you talk us through an average day?
My day usually starts off by making sure I have all of the necessary gear to do my job. Then I head off to site and complete a JRA and wait for operators to turn the power off and give us an access authority to start working. After that I start to set up the work site with all the tools needed for that job, then I would off side my tradesperson for the job and assist with anything else around the worksite.
What's the best part of your job, what do you enjoy the most?
Definitely being outdoors most of the day and getting to see so many new places. There's so much variety, you're rarely on the same site twice.
What do you consider to be the worst part of your job?
I would have to say working in all weather conditions. Even though being outside is the best part of the job, the winter months would definitely be the worst part!
What would you say to encourage people to take on an apprenticeship?
Just don't think about it too much, get in and have a go and try your best. If you can, do your pre-voc studies through TAFE and get out there and start applying.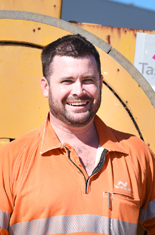 Jon Murray - Team Lead, Cable Joiners and Electrical Technicians South
Past Apprentice
How long have you been employed at TasNetworks?
I've now been with the company for 14 years.
Did you start your career off as an apprentice?
Yes I did, I started an apprenticeship straight out of college.
You're now in a position that sees you looking after other apprentices coming through, how do you find that?
Yes it's great, I've just recently had one person become qualified through ground services and I'm currently overseeing two other apprentices.
What support do you give to apprentices, especially those straight out of school?
Having been through the system myself I can really relate to our apprentices. I let the tradespeople show them the tricks of the trade in the field but I'm more of a mentor to them throughout their apprenticeship and basically help them with anything outside of their actual daily work.
What advice would you give to a young person looking to start an apprenticeship with TasNetworks?
I highly recommend anyone who might be interested to have a go! We've had people come through who have had absolutely no background in this field but TasNetworks is just a company that fully supports you. You can learn so many different things along the way in such a diverse environment.
What about mature age people, someone who is wanting to reinvent themselves or have a career change?
The most recent person to become qualified from my group was a mature age apprentice; he was in business with his father but wanted a change. Since completing his apprenticeship he absolutely loves it and said he wouldn't change any of it for the world.